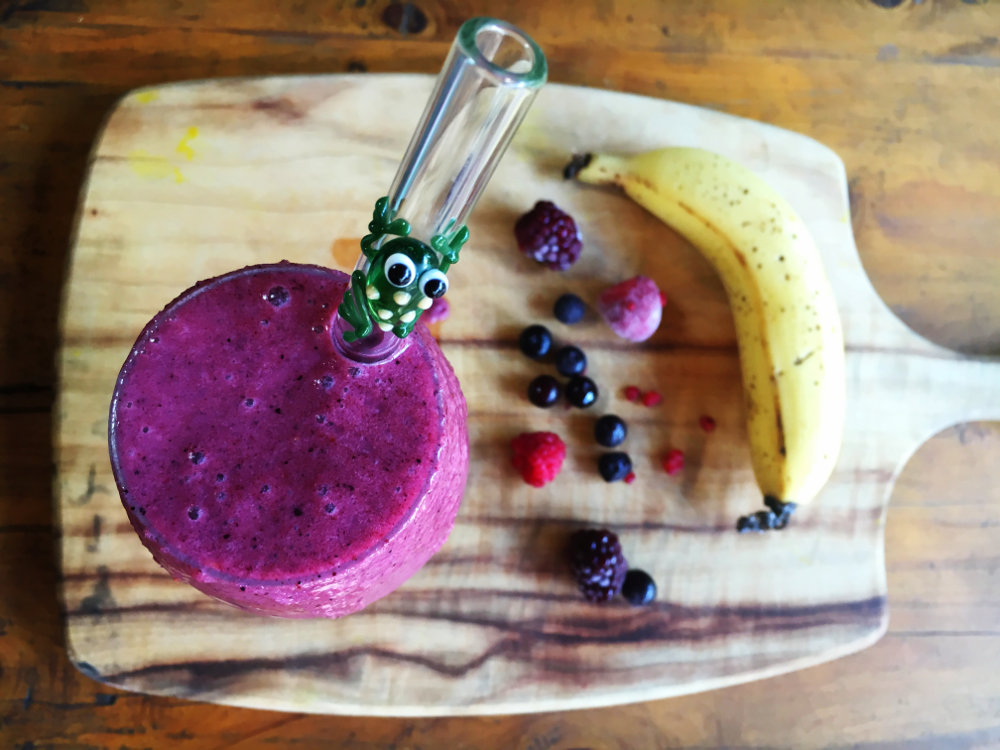 3 Breakfast Smoothies
April 24, 2016
When you are living a full life, really going for your goals, it can be a real challenge to get enough nutrients in to match the daily demands we place on our body and mind.
One of our tops tips to address this is to make yourself a nutrient dense smoothie for breakfast – one that tastes delicious and is going to fill you up and fuel you for your day ahead!
Even if your day goes south from there as a result of missed meals, running on coffee or unhealthy food – which lets face it, is a reality sometimes… at least you know you've got a good whack of nutrients into you that are going to help you think clearly, have energy and be on top of your game – not to mention, look after you and your wellbeing long-term.
You could also have these at any other time of the day as a quick meal, snack or pick me up. Especially when deadlines are looming and you're hungry, you're in the creative zone of work and forget to eat, or there's nothing for dinner and the only thing open is the supermarket!
Here are 3 of our favourite Breakfast Smoothies to get you going like a PRO!
Make sure to check out our Hot Tips and shopping guides below to make life a little easier…
Berry Banana Blitz
– Put all ingredients in blender and blend until smooth
– 1 cup of liquid – (1/2 cup coconut milk, 1/2 cup filtered water)
– 1 banana (fresh or frozen)
– 1/2 to 1 cup of organic frozen mixed berries
– 1 handful organic baby spinach (or kale or 1/2 zucchini)
– 1 heaped tbsp of seeds (hemp, flax or chia)
– 1 heaped tbsp collagen or protein powder
– 1/4 tspn cinnamon
– 1/2 tspn maca powder
Green Power Machine
– Put all ingredients in blender and blend until smooth
– 1 cup of liquid – (1/2 coconut water, 1/2 filtered water)
– 1/2 organic apple or pear or 1/4 fresh pineapple
– 1/2 organic cucumber
– 1 banana
– 1 large handful of fresh organic greens (spinach, kale, silver beet)
– a squeeze of lemon or lime
– 1 heaped tbsp of seeds (hemp, flax or chia)
– 1 heaped tbsp collagen or protein powder
– 1 scoop of greens powder (see add-ins below)
Choc Nut Classic
– Put all ingredients in blender and blend until smooth
– 1 cup of liquid – (1/2 cup coconut milk, 1/2 cup filtered water)
– 1 or 2 bananas
– 1 tbsp organic tahini (or other nut paste)
– 1 tbsp organic cacao powder
– 1 heaped tbsp of organic seeds (hemp, flax or chia)
– 1 heaped tbsp collagen or protein powder
– 1/2 tspn maca powder
Hot Tips
We have listed the ingredients that we use… Do the best you can from where you currently are
Don't get too caught up on the quantities listed, do what works for you – e.g. you might want the texture thicker or thinner so adjust the liquid accordingly
If you are going to freeze your bananas, make sure to peel them first and ideally chop. You'll have a hard time getting the skin off once they're frozen!
If you are super hungry then add an extra tbsp of protein powder, gelatin or organic seeds to beef up the protein content to help fill you up
Shopping for ingredients
Liquids
We generally use coconut milk, coconut water or filtered water in our smoothies. If you are new to drinking coconut milk sometimes it can be a bit rich or heavy for your stomach, so you might want to wean yourself onto it as the nutritional benefits are worth it.
Other great non dairy alternatives would be making your own nut or coconut milk or good brands of long-life milk from the supermarket are Australia's Own Organic or Pureharvest Coco Quench.
We try to avoid any added processed sugars and vegetable oils and we completely avoid conventional cow's milk and tap water. We aren't purists and like to eat out occasionally which means we can't avoid it all together when restaurants use tap water in their cooking – but we can, we do!

Read more on our post about Liquid Nutrition coming soon!
Produce
We buy mostly organic or chemical free produce from local farmers markets, for a few different reasons;
They are so tasty! Much more so than conventional produce.
It's less damage and toxic load on our bodies and the environment by avoiding pesticides, herbicides, lavacides, fungicides, GMO's etc. Every organic purchase is a vote for better health and policies!
We like supporting small business and farmers as much as possible – we still buy a few things from the supermarket or our local IGA.

For organic frozen berries we love OOB Organics found at the supermarket
To make shopping on a budget a little easier, the Environmental Working Group in the U.S has put together a shoppers guide detailing the Dirty Dozen and Clean Fifteen to help prioritise which fruits and vegetables to buy organic, ranging from the most pesticides to the least. Bare in mind this is based on U.S agricultural practices which can different slightly from Australia. Read more on our article 3 Reasons to Eat Organic.
Seeds / Powders / Add-ins
These add-ins can really pack a nutritional punch on a cellular level as well as making your smoothie a well balanced meal with good fats, protein, fibre and carbohydrates. This all adds to helping you feel full, satisfied, think clearly and have a gradual release of energy.
You can find them at your local health food shop or bulk whole foods shops. Most supermarkets are now carrying many of these items in their health food isle too.
Watch out for where your seeds and powders are coming from, especially if they aren't certified organic. For example China has very relaxed regulations around allowable levels of chemicals the foods are treated with. Often much higher than Australian standards.
Greens powder: we use and love Green Qi by Modere. We use many of their products because they only use the highest quality ingredients and they are a brand we can trust.

Green Qi is micronised, which means it's very bioavailable for the body, meaning it can be easily absorbed, assimilated and used by the body. It is great to support detoxification, digestion, energy production and alkalising the body.
We love to add a scoop of this to most of our smoothies because you can't even taste it and most of us don't get enough daily greens which are SO important for wellbeing.
Use this promo code 506847 when you create your free customer account at modere.com.au to get $10 off your first purchase over $50! The code is valid for 30 days from activation. Happy shopping!

Protein powder: we love Chocolate Shake Pea Protein or Vanilla Shake Pea Protein from Modere. A scoop of either of these with a scoop of Green Qi makes the perfect snack on-the-go, post workout recovery drink, or for breakfast when travelling.
Gelatin: right now you may be thinking jelly – that processed, packaged, sugar-ladened, dessert-in-a-box that is full of nasty colours and flavours? That is not what I'm talking about

Pure gelatin is a protein sourced from 18 amino acids (build blocks of protein in your body i.e. skin, hair, nails, connective tissue etc). Adding gelatin to your life increases glycine in your body which assists your liver to detoxify. It is also great for digestion and improving gut health (your gut is your second brain, so kind of important!).
We source a good quality gelatin from local producer Gelatin Health. Their site is great to learn more about the benefits of gelatin and find great recipes.
Your Shopping List
[ ] Liquid(s) of choice
[ ] Bananas
[ ] Organic apple or pear or pineapple
[ ] Organic frozen berries – we like OOB Organic
[ ] Organic leafy greens
[ ] Lemon or lime
[ ] Organic Seeds – hemp, flax or chia
[ ] Collagen or Protein Powder
[ ] Greens powder
[ ] Maca powder
[ ] Ground cinnamon
[ ] Organic Tahini
[ ] Organic Cacao powder
What's your favourite breakfast smoothie recipe? Share in the comments below…
Author Info