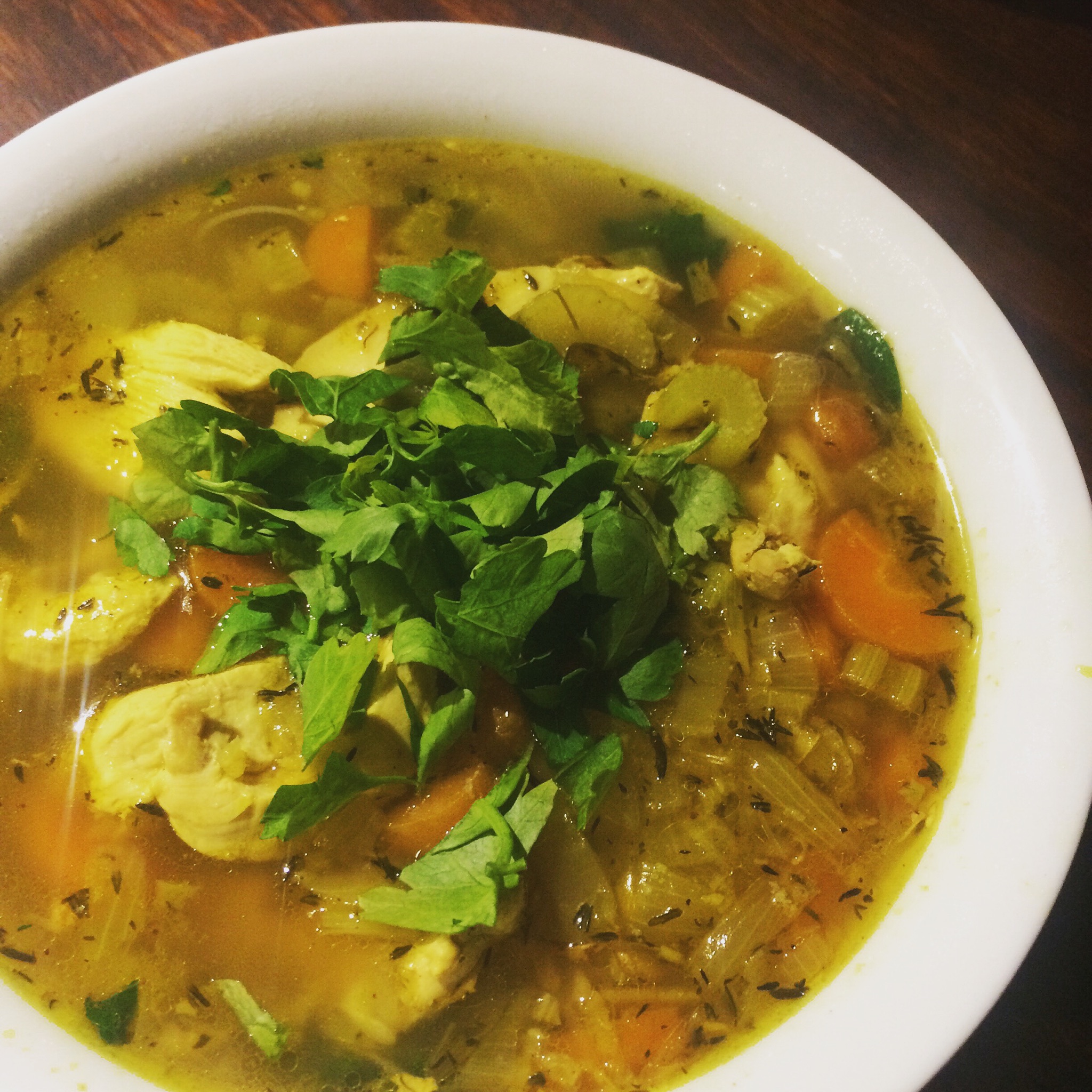 Chicken soup really can be good for the soul
April 19, 2018
This recipe is such a go-to for us whenever we need a pick-me-up and a good dose of nourishing goodness – we just had to share it with you!
It might take you back to when you were a child and your Mum or Grandma would make you chicken soup to help fight a cold or flu.
Even as a child, you could feel it doing you good. It was so comforting and nourishing right down to your soul.
There is good reason to feel this way, especially when it's the type of soup that is well prepared using quality ingredients.
The ingredients we include mean the end result boasts an abundance of immune-boosting properties, minerals, vitamins, herbs, collagen and fibre. Which help to nourish your insides.
We are all about food that's healthy, quick and delicious!

Tip: prepare all your ingredients before starting to cook. This makes the whole cooking process much less stressful.
Ingredients:
– 1 litre or more of broth (or filtered water)
– 1 tsp sea salt
– Ground black pepper, to taste
– 1 tbsp oil (coconut, olive, rice bran oil)
– 1 small brown onion, diced (or 1 leek sliced)
– 1 large celery stalk, diced
– 1 large carrot, diced
– 1 tsp cumin
– 1 tbsp fresh ginger, grated
– 1 tbsp fresh turmeric, grated (or 1 tsp powdered)
– 1 or more garlic cloves
– 100g brown rice noodles (or zucchini noodles)
– 1 large handful of leafy greens (eg baby spinach, kale or boy choy)
– 1 pastured chicken breast or thigh (optional), sliced
If you want to go next level with flavour, we add:
– 1 tsp ground coriander
– 1 tbsp of raw honey
– 1 tbsp of fish sauce
– 1 tsp of homemade stock paste instead of sea salt
– plus any fresh herbs like parsley
Method:
1. In a large saucepan, on medium heat, add oil and onion, cook stirring for a couple of minutes.
2. Add in carrot and celery, cook stirring for a minute or so.
3. Add in cumin, ginger, turmeric and garlic, cook stirring for another minute.
4. Pour in broth or water. Bring to the boil, then reduce to simmer.
5. Add in chicken and poach until tender, about 10mins.
6. Turn off heat and add in noodles, leafy greens and other flavours or herbs you like.
7. Put lid on and let stand for 2 mins.
8. Serve in big soup bowls and enjoy!
Makes 2 large serves or 3 smaller serves.
After you make this a couple of times, you will see how versatile it is with using whatever you have in the fridge and swapping in your best veggies, herbs, spices and with or without animal protein, to make it a match to your genetic health profile!
We would love to see your creation! Share it with us on Facebook or Instagram and tag us @lifestyleartists
Haven't done your genetic health test yet? Just email kate@lifestyleartists.com.au for your free 7 Day Trial of the platform.
Author Info