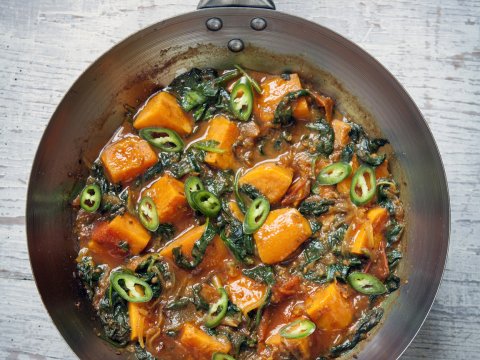 Saagwala Curry (spinach curry)
July 22, 2018
One of my besties gave me this recipe years ago and I've been making it almost every other week since then. I've switched it up many times using potato or sweet potato or both, instead of meat. Or if we have people over I'll make both 🙂
This recipe is super versatile to personalise for most body types and food requirements. Whether you add meat or keep it vegetarian, whether you serve it with a grain or cauliflower rice, you can change it up to suit your best ingredients based on your personal health profile.
Many of our clients have spinach as one of their highest rated vegetables in their list, so we are often sharing this recipe with them.
Bonus tip: making curries from scratch is easy when you have the spices on hand. I love the Simply Organic spices which come in a nice glass bottle (we buy them from iHerb), then I refill them from my local bulk foods place. Then you avoid all the nasty ingredients which come in most bottled or packaged curry sauces and you are getting the best immune-boosting and anti-inflammatory properties make it a super nourishing meal.
Ingredients:
– 1 heaped tsp ground coriander
– 1 heaped tsp ground cumin
– 1 heaped tsp fenugreek seeds (can grind if you like)
– 1 heaped tsp garam masala
– 1 tsp sea salt
– 1 tbsp your best oil
– 1 large onion (diced)
– 3 cloves garlic (chopped)
– 3 cm ginger fresh (grated)
– 1 tsp fresh turmeric, (grated) or powder
– 1 chilli red or green add more for a hotter curry (or ½ tsp cayenne powder)
– 1 bunch silverbeet/chard about 800 grams (chopped finely)
– 1 bunch coriander, fresh
– 150g almonds (ground) (ideally soaked prior)
– 3 tomatoes diced (or 1/2-full tin organic diced tomatoes)
– 250ml stock
– 800g of potato, or sweet potato, or combination (or half vege, half meat) cut into 2cm cubes
– 200g organic plain yogurt or ½-1 tin organic coconut cream/milk
– ½ – 1 lemon, juiced
Method:
1. add all spices to a dry pan and stir just until you smell the aroma
2. add oil, ginger, onion, chilli, turmeric and garlic and saute for a few minutes
3. add all other ingredients to the pan (except yoghurt/cream and lemon) and stir to
combine, then cover pan with lid and turn down to low for 30mins (for vege) to 1 hour (protein) (or put in the oven on about 100 degrees) until vege cooked and any protein is soft.
4. stir through the yoghurt/cream and lemon just before serving
5. serve with your best grain (best rice or quinoa) or cauliflower rice
And enjoy!
Kate xo
Is it Insta worthy? Take a picture and tag us on social media @lifestyleartists – we would love to see your creation!
Author Info